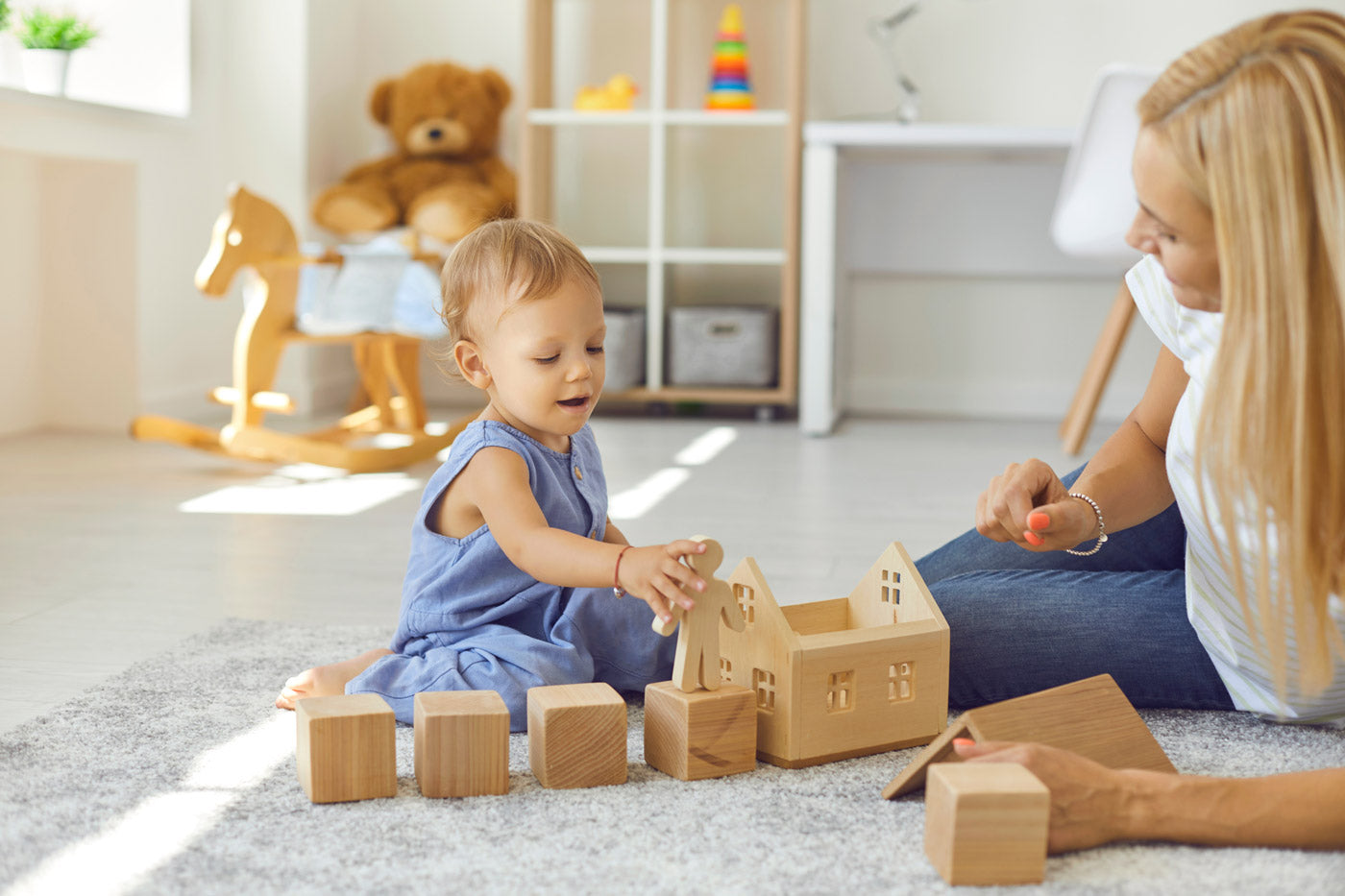 The best non-toxic baby toys and how to safeguard your playroom.
Why Are Safe Baby Toys Important? 
The Consumer Product Safety Commission regulates and enforces federal standards for children's toys like sharp edges, choking hazards and lead paint, but this does not mean it actually tests the toys for safety before they hit the market.  A toy is only recalled after the damage is done and a formal complaint is filed.  Toys imported from countries with lower standards on chemical use can easily find their way onto your local toy shelves and into your child's hands. It's up to parents to educate themselves and filter what toys their children are exposed to. 
Here are a few things to keep an eye out for and avoid:
Now that we have an idea of some of the dangers lurking in toys, let's look at how to safeguard our playroom with some of our favorite non-toxic toys from companies who work hard to create quality baby and children's products. 
Wooden Toys are the Safest and Most Beneficial! 
Made of Vermont maple this untreated teether is perfect for babies to get their hands and arms around and small enough to be comfortable in their mouth.
The sound of the beads is great for encouraging engagement and teaches cause and effect. 
Older infants ages 7-12 months like to pretend, build, drop, push and pull things. 
Another must have toy for your toy shelf is a great collection of basic building blocks.
Now the fun begins and your baby is officially a toddler! 1-3 year old's love to create, pretend and build.  Get your little one started with puzzles and pretend food and keep adding to their block collection! Now is a great time to jump start their plush collection too!  Here are a few of our favorites!
Once your child enters the preschool and kindergarten years, they will have a longer attention span and will need toys for fostering imaginative play. Building and stacking will become more complex and is great for creative learning and problem-solving.  They also introduce children to early numeracy skills like height, weight and comparison. The list goes on!
This is a durable firetruck and comes with several accessories which can be stored within the truck. 
We believe whether it's the excitement of watching a 6-month-old recognize the moon, or a 6-year old seeing the intricacies of bacteria through a microscope, nature inspires awe and wonder like nothing else and with the endless health benefits it provides our children as well as us, it brings comfort and assurance that the toys we give them are the best for them as well as this beautiful Earth.